2013 Roster of Makers, Performers, Presenters, Crafters and Vendors 
Amazing Robotics
Amazing Robotics by Crafts for Learning: Low Tech/No Tech Robotics Projects for kids. Build real working robotics projects using everyday materials — no computer needed!
Autism as Evolution: Aspiring to Animality
Julie Casper Roth's video work focusing on the idea of autism being a form of human evolution. This work imagines a hypothetical future where the majority of the human population is on the autism spectrum and autism is considered neurotypical rather than dysfunctional. To better explore future humanity, Julie looks backwards, exploring the genetic basis for autism. Most interesting to Julie is the connection between animality and autism – particularly as it relates to the evolution of cognition in animals and humans.
Julie says, "My work explores autism as a genetic reprioritization of traits that favor the strengths of the animal. In other words, I understand autism as the re-ignition of genes that became dormant throughout evolution. Animality was not simply repressed and dominated in the human genome. It was stored until environmental stressors coaxed out its usefulness. These instructions – ignited in those on the autism spectrum – influence social and neurological traits that benefit human and animal society. My video piece, "Do Animals have Autism?" esteems the shared processing/neurological traits of animals and people on the autism spectrum, and understands these traits as necessary for species survival. These traits include behaviors such as scanning, stereotyped movements, variables in social traits, and nonverbal communication. Ultimately, my work wonders if humans were the animal kingdom's unwitting experiment – a vehicle for the survival of the fittest genes and a pathway to the posthuman/neoanimal."
Backyard Farming
Farming – What You Can Do In Your Back Yard! You don't need acres of land to be able to grow food for your family, flowers for your yard or raise chickens. Learn about simple gardening techniques, the benefits of growing your own vegetables and flowers and ways to support local agriculture. You can also experience the enjoyment of raising your own chickens.
Bike Generator and Energy Board
Take a ride on Siena College's bike generator. See how your pedal power can supply power to different types of light bulbs and a leaf blower. How high can you make the ping pong ball fly? You'll be able to measure the voltage and current from our energy board to see how much energy you create when you ride the bike!

The Blink of an Eye
High speed imaging demonstration up to 2000 frames per second. Demonstrations include measuring how long it actually takes the eye to blink, dropping objects into a dish of water  and popping water balloons. Get ready to get wet! Pre-recorded video of high speed events will also be available for viewing.
Biological Arts
Kathy High, Professor in the ARTS department at RPI, will describe her recent activities in art and biology – sometimes referred to as 'bioart' – or working with living materials. High will discuss 3 different projects to entice participants: 'Blood Wars' – a look at our immune system through a competition between people's white blood cells http://vampirestudygroup.com/bloodwars/; 'BioArt in an Industrial Wasteland' – an ongoing series of art and science workshops at The Sanctuary for Independent Media http://www.mediasanctuary.org/node/5408; and 'Field Notes/Deep Time' – a recent residency/laboratory of the subartic landscape of Finland http://bioartsociety.fi/deep_time/. This will be a brief introduction to this exciting hybrid field!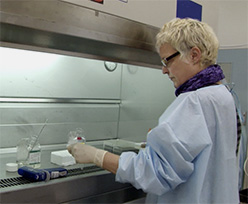 Bridge Building with Emma Willard's Science Olympiad Team
Is it possible to build a bridge that can hold weight out of just ONE piece of paper? Want to know the science behind it? Come and build your own bridge with the Emma Willard Science Olympiad team.  
Brooklyn Aerodrome
The Brooklyn Aerodrome promotes DIY RC aircraft in support of arts, education and fun. Conditions permitting we will offer buddy box flying (student driving for pilots), demo flights and show how we make things fly in the hopes of you making things fly.
Cake Bash Cake Decorating
Cake Bash is a cake decorating booth where
participants will learn cake decorating techniques like how to properly fill and hold a pastry bag and use it to pipe different flowers and borders. After learning some basics, participants will decorate an awesome cupcake to take home in their own display box! Check us out at CakeBashParties.com for more information about our cake decorating parties!
Chainmail
Initially developed as flexible armor to protect wearers against slashing and stabbing attacks, chainmail (or simply "maille"), is the craft of weaving metal rings. Maille is still produced to this day, both for historical reenactment as well as for numerous practical and aesthetic applications. Some examples include: shark-resistant suits for divers, cut-proof gloves for food preparation, Faraday suits for protection from the high voltage produced by Tesla coils, and often for jewelry and unique wearable accessories.
Examples of various weaves and projects will be shown, and beginner weaves will be demonstrated. Make your own 2-in-1 chain or Byzantine-style chain bracelet, learn how to make European 4-in-1 sheet, or simply come to see and touch examples of this unique craft.

Common Thread Knitting Demonstration
Common Thread Knitting Demonstration by Common Thread Saratoga: Fiber artists unite!  Knitting and crochet are fabulous methods to work with a variety of fibers to create your own handmade garments or artistic creations.  Stop in and pick up a set of needles, learn a stitch or two, and see all of the fantastic textile options available to you.
Cozy Crochet
Various handmade crochet items.  
Creative Movement With Flow Toys
"Flow Toys" are any piece of equipment that can be used to inspire creative expression and optimal visual and kinesthetic experience through creative and exploratory movement.  It's a means of getting into our bodies, enhancing awareness of our surroundings, and stretching our physical and mental limits.  Hoop Dancing and Poi Spinning are two examples of this type of creative movement that are featured here today.
Crochet and Fabric Crafts
As a self-taught crocheter and sewer, Lindsey Stapleton will have on display various crochet and fabric crafts, ranging from hats and play fruits and vegetables, to blankets and reusable drink sleeves. There will be some yarn and hooks on hand for those who might like to try out a few basic crochet techniques.
Cube
Cube is an interactive art installation by Balam Soto.
The Diode Clock
The Diode Clock is an artifact of post-modern electronic design.  Using only common diodes as active elements, with over 7,000 total components, it implements a six-digit LED clock.  Built using DDL (Diode-Diode Logic) gates, which comprise a functionally complete logic family, the clock is a proof-of concept towards a diode-only computer. See the clock, race it through a 24-hour cycle in 30 seconds, and experiment with simple hands-on demonstration circuits using DDL, a transistorless digital logic family.
Documentary Film:
Consider the Lillies
Consider the Lillies is a documentary film by Emma Willard student Natalie Cross ('14). Natalie will host two screenings (12:00 PM and 2:30 PM in the Emma Willard Chapel) of her film (run time approx 25 minutes) and talk about her vision and process when creating the film.
Duct Tape LED Wallets
Make a duct tape wallet and add LEDs with students from Siena College! You'll make a duct tape wallet and add a circuit with wires (copper tape), a button(duct tape and copper tape), and an LED. Push the button and your LED will light up.
Edison Tech Center
ASK the Edison Tech Center! Bring your tech questions for the Edison Tech Center to engineer a solution.
HELP the Edison Tech Center solve a puzzle and become eligible to get the book "Extraordinary Uses for Ordinary Things".
WATCH the Edison Tech Center electric vehicle, the Electric City Hauler, and learn how it was designed and built.
LISTEN to the musical inventions from the Edison Tech Center.
Flint Hill Makers
Explore the projects created by middle school students from Flint Hill School in Northern Virginia.  Learn soldering and electronics basics from Flint Hill students!
The Flying Pizza
Did you ever think it could be cloudy with a chance of flying pizzas? Well now it can be.
This demonstration and presentation will include a remote-controlled flying pizza. Well, not the whole pizza but a pizzabox with electric motors. This project has been built by Emma Edgar, age 10, from Glenmont, NY. Emma enjoys building gadgets and adds a sense of humor to her projects. This is a true maker project has been built with RC equipment from her Dad and common household items including left over pizza box.
Handbuilding with Clay
Kathryn Benson and Mary LaFleur from Pine Woods Potters will demonstrate using texture to create one-of-a-kind pieces of pottery.  We will create mugs, vases, bowls and other forms of pottery.
Jewelry and Knits
Handmade jewelry, knit items, and cool repurposing of vintage items like records from LiterateCat! Knitting and jewelry making will be demonstrated at the booth. Some yarn and needles will be on hand for experimenting.
Jewels of the Sea at Discovery Hall
"Jewels of the Sea" is an extraordinary collection of more than 800 species and 1000 variations of seashells including the largest and smallest seashells on earth. The exhibit at Discovery Hall, 426 2nd Street Troy, NY includes corals, sea stars, lobster, crab, sea urchins, sea horses, fossils of extinct species and their modern relatives, photos of where many of the shells were collected, seashell x-rays, microscope-enlarged photos of shells no bigger than a grain of sand, , Sea Turtle Rescue and Oceanic Conservation Information. Attendees will have the the hands on opportunity to 'hatch' whelk shells from their casings and examine their miniature finds.
Katharine Stiles Wilson Ceramics
Clay, by nature, embodies the principles of magical realism
; it is capable of both shape shifting and enduring in a fixed, hard, structure.  Katharine will both display and demonstrate her pottery, showing pieces that blur the boundaries between form and function.  
Katie Nare Jewelry
Katie Nare of Katie Nare Jewelry stringing poppyseed sized seed beads into large sculptural jewelry!
littleBits Electronics
Make something that does something! littleBits are award-winning color-coded electronic modules that snap together magnetically to build simple circuits and inventive projects in seconds. Stop by our booth to  experiment with some Bits, attend a workshop, check out the brand new collection of Kits!  *Presented by CompuChild of NENY
Making Maps with Computers
Geographic Information Systems (GIS) or Computer Cartography, is the newest form of creating relevant, timely maps for transport, disaster management, and demographics. Feel free to try your hand at adding data to maps and see what you create!
Mayan Hands
Mayan Hands is connected to people all around the world who make the products we use in our daily lives, from the clothing we wear to the food we eat. Yet so often the people who make those things are not able to feed or clothe their own families because of how little they are paid for their work. Fair Trade changes that. By providing people a fair return for their work, we are creating an alternative to the race-to-the-bottom model practiced by so many businesses.
Mayan Hands is a non-profit fair trade organization partnering with talented Mayan artisans in the Guatemalan Highlands. Through fair trade, Mayan women are lifting their families out of poverty as they continue to live within the culture they cherish.
Melissa's Pots
Handmade utilitarian pottery made for over 30 Years: * Hanging Face Molds * Orders available * Wall hanging planters * Microwave safe * Colanders * Dishwasher safe * Butter crocks  
MinecraftEDU
This workshop will introduce you to Minecraft through a tutorial to teach you the basics of Minecraft. The server will run a mod called MinecraftEDU that provides additional tools for building worlds and developing curriculum as well as classroom management. If you're new to Minecraft or you're interested in running Minecraft in your classroom, this is a good introduction for beginning players and teachers. This workshop will be going on all day in the Digital Imaging Lab.
Mold Making
Materials and process used to make reproductions of historic pieces using molds. Presented by DIY Restore It!

Monoprint for Everyone
NO PREVIOUS EXPERIENCE NECESSARY.
Participants will draw images using water soluble crayon on a plexiglas plate. The plate, when in tight contact with dampened paper, will transfer the image. Thus the print becomes an individual, original work of art, which can be taken with the artist participant.
Musical Rangefinder
A piezo speaker where the tone is adjusted by the output of the ultrasonic rangefinder. The instrument is played by placing your hands at varying distances from the range finder. Tone length can be adjusted through a potentiometer. It can be played by visitors.
Open Wire Lab
DIY wearable kits from Open Wire Lab
PeaceBomb
PeaceBomb is a collaborative art installation by  artist Nicole
Hapeman that honors stories of conflict diffusion. Make Art! Become a Weapon of Mass Diffusion! Add your voice to this project by telling your story of conflict diffusion, making a flag, or recording a soundtbyte for the PeaceBomb "Choir". A painting will be made onsite in response to the stories told at the Maker Faire. These stories will be edited into an audio collage and linked with the painting to an online museum honoring conflict diffusion. See examples at www.peacebombproject.com.
PhoebeMade
Beautiful handmade goods for children, grown ups and home by PhoebeMade.
Powering an Ice Cream Parlor
This demo, created by the Society of Women Engineers, will walk students through the sources of power, including non-renewable and renewable (wind and solar), to provide electricity to light up an ice cream parlor.
Raspberry Pi
This workshop will provide an opportunity to become familiar with the Raspberry Pi, a credit-card sized computer that runs a Linux operating system. The workshop will introduce you to topics including setting up the Raspberry Pi, an introduction to Linux, programming in Python, Minecraft on the Raspberry Pi, and controlling the GPIO pins on the Pi.
Stage Hypnosis
Dr. Bengali presents Stage Hypnosis. Volunteer to participate on stage or sit back in audience and enjoy. comedy fun for the entire family.  Watch your friends as you may have never known them before when they under go a brief 5 minutes of hypnosis process. The performance also mentions on  how self hypnosis can help you in reducing stress, overcoming addictions etc through entertainment.
Stone Sculpture
Unique Carvings by Vermont Artist and Stone Sculptor Heather Milne Ritchie.
Susie & Larry's World of Jewelry and Sculptures
Jewelry and Sculptures made by Hand and 3D Printing. Free Activities and Seminars on Making Anything. Free handout on the best maker apps for young makers.
Traditional Tesla Coil
An old-school Tesla Coil, built by RPI electrical engineering students on a shoestring budget, this coil throws 5′ sparks and lights up fluorescent tubes wirelessly from several feet away.
This 20 minute event will cover: A brief description of Tesla coil history, theory of operation, and details of Tesla coil construction will be presented, followed by a demonstration and a discussion. The session will close with one more demonstration, and then an up-close and personal Q&A session for those spectators wishing to get a closer look.
Tiger Trap Studio
Tiger Trap Studio is the creative home of Ira Marcks (Troy-based cartoonist and teacher) and Caroline Corrigan (graphic designer and teacher/administrator). Books, teaching-tools, art prints, cards and sketchbooks are examples of the handmade goods created by Ira and Caroline. Tiger Trap Studio seeks to utilize graphic arts, illustration and storytelling techniques to help foster creative thinking strategies that inspire both artists and non-artists alike. Through open-ended activities such as a drawing, cartooning and collage, students across various areas of interests, skill-sets and backgrounds can hone their "right-brain" skills, putting an emphasis on visual literacy.
Tricia Ackner Eyeglass Neckware Design
"Jewelry with Function" Tricia Ackner creates stand alone necklaces that hold your prescription, reading and sunglasses in place.
Ulster Soaps: Creating Unique Handmade Bath & Body Products
Do you know what you and your family are putting on your body everyday? Most commercially produced soap contains synthetic lathering agents, artificial colors, and other chemicals. With over 16 years of experience soapmaker Leah LaFera will be selling handmade artisan soaps and sharing recipes to start you on your way to making your own handmade soaps & body products. Making your own bars of soap allows you to have control over what ingredients your body is exposed to. By using essential oils, clays, exfoliants, oils, and herbs you can create custom bars to best suit your skin's needs. Also on display will be a sampling of ingredients that are used in making beautifully natural Ulster Soaps.
Violin Making
Nathaniel Rowan will display various steps in the violin making process. Starting with the concept of design, there will be violins presented in different stages of construction ending  up with a completed instrument. There will be a comparison of traditional and contemporary violins as well as a demonstration of some of the specific tools used in the trade.  
Vital Vio
Vital Vio makes a new kind of lighting for general illumination that looks white, yet safely kills bacteria around people whenever the lights are on. The main application currently of Vital Vio lighting is to attempt to reduce Hospital Acquired Infections (HAIs) in healthcare facilities; a problem that causes around 100,000 deaths a year and costs hospitals 35-45 billion dollars a year to treat. Vital Vio would propose to have an informational display along with a product demonstration. The demonstration may include a hands on activity which may be a puzzle format challenging people to control different colors of light to make white in one of Vital Vio's fixtures.
Wood/Metal/Leather Working Functional and Visual Arts
We combine many mediums to create both functional and visual art pieces. From found, bought, reclaimed and repurposed materials, a limitless array of items are created, ranging from the simple table to more complex projects like the electric cigar box guitar or the plumbing pipe desk lamp. Stop by to see many examples and photos of work.
ZOO Kids Clothing
ZOO is a kidswear line handmade in Troy, NY out of recycled T-shirts!
3D/2D Art for Kids
Gretchen Gesner presents 3D and 2D Art for kids. Make and decorate 3d models from paper. Also read my picture book, "One Bright Ring" and view/purchase prints of my children's book illustrations. You can also check Gretchen out on Facebook.